Headlight Restoration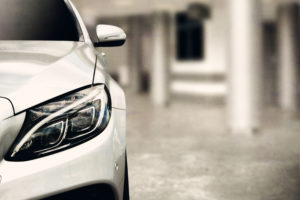 Headlight restoration can extend the usability life of a car's headlights, can improve a vehicle's appearance, and can make driving safer- especially driving at night. C&D Dent Guys offers headlight restoration to motorists in El Paso and in surrounding areas whose headlights have become old and dingy.
Why is Headlight Restoration Necessary?
Over time, exposure to UV light and exposure to other environmental factors can cause headlight lenses on a vehicle to become aged and discolored.  Impact from road debris and exposure to caustic chemicals on roadways can also help to contribute to the protective hard coating on headlights breaking down and disintegrating.  Eventually, as the UV coating is worn away on headlights and as the lights begin to break down due to age and exposure, small surface cracks or crazing can develop on the surface of the lights.  This crazing and the haziness and discoloration that usually occur due to the breakdown of the headlight's coating can reduce the effectiveness of headlights by as much as 70 percent, adversely affecting visibility. The effect of damaged headlights is especially pronounced at night, when driving with old headlights can be very dangerous.
Choosing Headlight Restoration
Headlight restoration can be the most affordable and cost-effective way of resolving the problems caused by aged and worn-down headlights. Instead of needing to replace a headlight lens, which is much more expensive and which can total in the thousands of dollars, headlight restoration can make your old headlights look like new again.  Headlight restoration should be done by professionals with experience, as the process must be performed carefully in order to ensure it is effective and visibility is fully restored so driving will be safe again.
For drivers in El Paso who are interested in headlight restoration, contact C&D Dent Guys today to learn more about this service.