Windshield Repair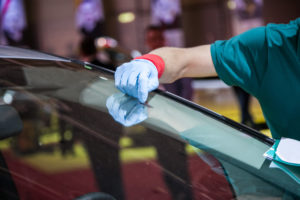 Windshield repair must be done as soon as possible when a windshield is damaged so the affected vehicle remains usable and the driver's vision is not obstructed.  Performing repairs as soon as small damage to the windshield is identified can also prevent minor damage from turning into major damage, which would necessitate a full replacement.  C&D Dent Guys can provide help with windshield repair to drivers throughout the El Paso area.
The Windshield Repair Process
When a windshield has a small chip or a small crack, the windshield may not need to be replaced. Instead, the small chipped area can often be filled in and the windshield will look as good as new. Whether the crack or chip in the windshield can be repaired or not is going to depend both on the size and the location of the crack. If the damaged area is right in a driver's line-of-sight, it may be best to replace the windshield rather than simply trying to do a repair.  C&D Dent Guys provides both repair and replacement services.
Auto Insurance and Windshield Repair
For many motorists who have damaged windshields, crack repair or even full replacement of the windshield is usually covered by auto insurance.  In many cases, there are special provisions of insurance policies which allow repairs to be covered with no deductible. Making a claim for an insurer to pay for windshield repair also will not cause a rise in auto insurance premiums under most circumstances.
C&D Dent Guys in El Paso provides high-quality windshield repair and replacement services and can assist with making sure that insurance claims are successfully made. The process is quick and easy, so contact us today to learn more about getting your windshield fixed.