Dent Repair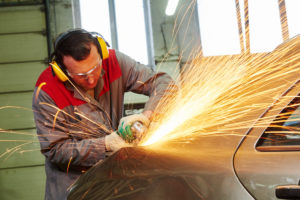 Whether it is hail damage or a ding to the door, a dent in your car needs prompt and immediate dent repair. C&D Dent Guys offers paintless dent repair, as well as fixes to serious dings and dents that require advanced knowledge of fixing cosmetic damage to vehicles. For those in El Paso and surrounding areas who want to make sure their car looks as good as new, a visit to C&D Dent Guys is the best choice.
What is Paintless Dent Repair
Paintless dent repair, or PDR, is an environmentally-friendly way to fix hail damage, body creases, and dents and dings that mar the look of your vehicle. Paintless dent repair is more affordable than other methods of dent repair and the factory finish on vehicles is not altered by the process. With paintless dent repair, special tools are used to approach the dent from the back and to carefully massage the vehicle's exterior back to the original position it was in. An expert needs to complete this process to make sure the dent is worked out appropriately. There is no need for sanding or repainting; the vehicle is simply restored to its original attractive condition.
Other Dent Repair Solutions
While paintless dent repair works great for most dents, traditional methods of dent repair may also be necessary. This involves filling in the auto body dent with filler and then painting the area to make it match the rest of the vehicle. This type of dent repair requires a great deal of skill to seamlessly blend the repaired area with the undamaged surface of a vehicle.
C&D Dent Guys in El Paso can do paintless dent repair as well as other dent repair processes to fix any dent. To learn more about how we can help, contact us today.